You need to be confident in the ongoing service of your company's technological infrastructure and at Compel, we guarantee you will be. As a managed services provider we have a wealth of knowledge within a diverse range of technologies.
Over the past 30 years we have provided our customers timely resolutions to their IT infrastructure needs. When your technology fails our experienced and highly trained technicians, supported by our partnered manufacturers, are ready to assist by phone, remote access support, at our office, or onsite. We provide multiple levels of contracted support, from asset monitoring to complete managed outsourced IT services.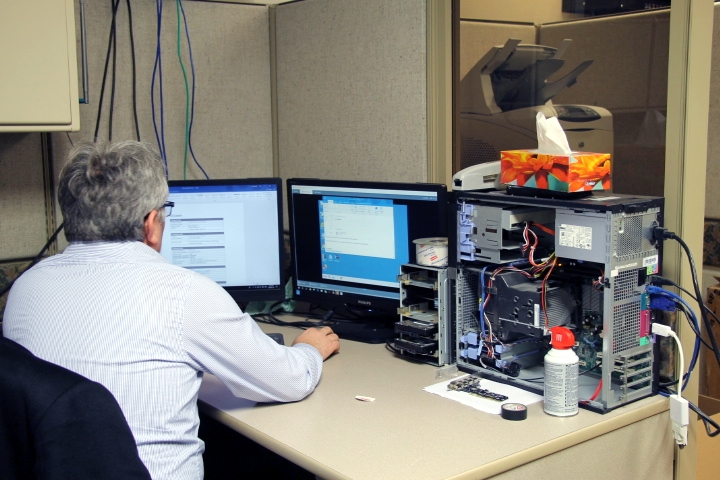 MSC: Monitoring Only Service Contract 
We provide a monitoring service that provides real-time alerts on the health of your office machines including servers, workstations, virtual machines and MACS. Our support team will contact you if/as issues arise with recommendations on how to proceed. Weekly reports from our monitoring software are sent directly to our clients so that they remain up to date on the health of their machines.
Workstation and Server Monitoring with weekly status reports
NSC: Network Support Contract
A network support contract includes the monitoring services of the MSC plus support for your Network Infrastructure. Your entire office will be monitored by an assigned technician and issues covered under the NSC are taken care of as they are discovered. Our technicians all take proactive care to ensure that your office is operating as smoothly as possible. Network Services included in the contact are:
Network connectivity to the Internet
Network Printers and devices
File management
Network Administration including adding users, setting up security groups and permissions
Server health Maintenance including monthly windows updates,and backup checks to make sure your data is protected
Regular System Maintenance to keep your system operating efficiently
Remote network management
Disaster recovery in the event of equipment failure
Preventive maintenance against backup failures and malicious virus attacks on hardware and your valuable data.
MNSC: Managed Network Support Contract
Our highest level of support. The MNSC is an expanded network support contract to encompass the complete management of your site. It includes all of the features of the NSC plus the following additional services:
Workstation's health and maintenance
Provide unlimited phone and remote support.
Server and workstation Antivirus updates
Workstation application and appliance support
Preventative training against ransomware and other malware